Dr. Edwina Toulmin, the driving force behind McMahons Point Dental, is dedicated to all things dentistry. But did you know what goes behind our dentist's charming smile? That she's a self-confessed foodie? Or that she knows if you've been flossing or not? We get down to the "tooth" of the matter in our interview with Dr. Edwina below.
Tell us something about yourself. What are your interests, your background? What made you get into dentistry? 
I grew up in Sydney. I love everything about food (cooking, eating and reading about it!). I enjoy horse riding (dressage) but never get time for it. I also like playing tennis, going to the beach, practicing yoga and gardening. I have a little dog named Chloe who I adore. I like going to the opera and spending time with friends.
I went into dentistry because I wanted a career that involved interacting with people every day. The most satisfaction I get from dentistry is the feeling that I am improving the health, wellbeing and happiness of my patients. I love the relationships and even friendships that I build up with my patients over time. I also really enjoy learning more about dentistry so spend way too much time and money doing continuing professional development courses!
What is the one mistake you see people make when it comes to dental hygiene?
Believing they can get away without flossing! Or thinking that they can floss twice a year (the morning before seeing their dentist) without us noticing! Also, a lot of people believe mouthwash is necessary for an oral hygiene routine – it isn't. Brushing twice a day, flossing once a day and enjoying a balanced diet is all you need (with the exception of certain medical conditions and medicines).
How can we prevent kids from getting cavities and toothaches? What tips do you have for them on avoiding sugary foods and brushing their teeth twice a day? 
As you say, brushing and avoiding sugary foods is really all it takes. What I would say is beware of so-called "health foods" that are often high in carbohydrates such as fructose. Muesli bars, "health food bars", dried fruit bars, protein balls and packaged fruit snacks are the main culprits.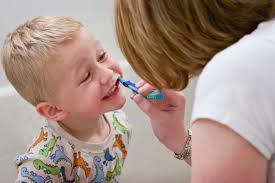 Remember, fruit juice should only be an occasional drink and, when given to children, should be watered down. Children get all the vitamins they need from two serves of fresh fruit per day (in addition to a balanced diet of fresh vegetables, protein and carbohydrates). Also remember that the bacteria that cause tooth decay can't differentiate between sweets and chocolates and other sources of carbohydrate such as pasta, rice, bread, biscuits and fruit. All carbohydrates are a source of energy for bacteria to thrive.
Getting children into the habit of brushing can be very difficult. My advice would be to start young and maintain consistency. A rewards system can be used to help some children. Also keep in mind that children don't have the fine motor skills to be able to brush their teeth effectively until they are at least 8 years old, often later for boys. So parents should ideally brush their children's teeth for them at night, allowing them to have a turn if they wish. The morning brush can be done by the child if s/he is old enough.
What's your take on electric toothbrushes? Are they a necessary or needless invention?
I recommend all my adult patients use a rechargeable electric toothbrush with an oscillating head. Research has shown these do a better job of removing plaque (the sticky stuff that builds up on your teeth) than a manual toothbrush. People who brush their teeth too hard can get a special electric toothbrush that warns you when you're brushing too hard. For children, electric toothbrushes are useful as long as the child brushes carefully. Children can be disposed to thinking that the brush is doing all the work for them and sometimes get a little lazy.
Flossing: do we have to do it? Why? How often? 


We have a saying in dentistry that you don't have to floss all your teeth, just the ones you want to keep! Yes, everyone must floss their teeth once a day. Some may need to do it more often, as instructed by their dentist. Flossing is important to prevent decay forming between the teeth and to prevent gum disease (gingivitis and periodontitis). Gingivitis causes red, swollen and bleeding gums. Periodontitis causes loss of bone around the teeth and can lead to pain and even loose teeth.
Finally, give us your top tips for healthy teeth.
 Floss every day. Yes, it's difficult to do initially but once you become skilled at it, it will become a habit you'll never want to break
Brush your teeth morning and night with an electric toothbrush and fluoride toothpaste
See your dentist every 6-12 months, depending on their advice, for a check-up and clean
After brushing, run your tongue over your teeth to ensure they feel clean and smooth
Rinse with water after every meal and snack
Limit food consumption to three meals and two or three snacks per day. If you eat and drink too frequently it increases your risk of decay
Avoid whitening products from the supermarket and chemist as they can be less effective and quite abrasive.