Dental Implant North Sydney – Implants you can trust!
Dental implants from North Sydney McMahons Point Dental offer a permanent solution for missing or removed teeth. If you've lost some teeth and want a natural-looking replacement, get in touch with us today. We offer comprehensive dental implant treatment to North Sydney residents.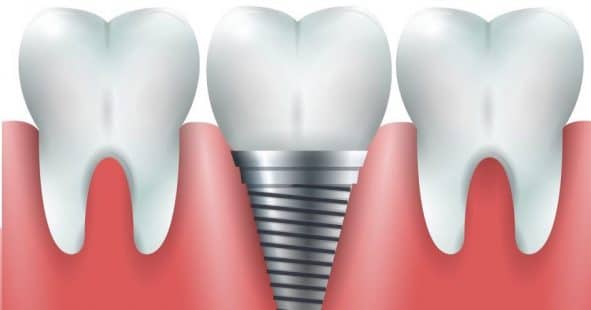 What Is a Dental Implant?
Dental Implants are the best option for missing teeth. It takes the place of a natural tooth root and has the unique ability to fuse with the living bone. The implant is then topped with a natural looking tooth coloured crown.
There are many different types of dental implants as well as many different types of crowns. The most common material for crowns is porcelain. McMahons Point Dental offers dental implants to North Sydney residents as a fixed, long-lasting and natural-looking solution to missing teeth, greatly improving the quality of life for many patients.
Our North Sydney dentist team is highly experienced and provides great care for patients seeking dental implants in Crows Nest, St Leonards, McMahons Point and to North Sydney locals.
Advantages of Dental Implants
The greatest advantage of replacing a missing tooth with a dental implant is how natural looking and feeling it is. The implant literally takes the place of your missing tooth, restoring it to complete function.
Dental implants are fixed in your jaw so you don't have to worry about them falling out, or bother with removing them and cleaning them like you would a denture.
Our North Sydney Dentists uses are dental implants made of medically pure titanium that fuses to the bone, preventing bone loss. This prevents gum recession around nearby teeth and can help maintain the facial structure that is lost when you are missing teeth.
How much do dental implants Cost?
It is difficult to say how much your dental implant treatment in North Sydney will cost, as every case is different and has different requirements. Get in touch with your local dentist McMahons Point Dental today to schedule a consultation so we can discuss treatment options and prices with you.
How Long Will the Implants Last?
The dental implant itself will usually last for the rest of your life. The implant components such as the screws and crowns may need intermittent maintenance or repair and will most likely need replacement every 10 to 15 years.
Dental implant surgery is carried out under local anaesthesia. The implant is placed in your jaw and left for up to 6 months to fuse to the bone before the crown is attached. The healing time depends on the bone density at the site of the lost tooth. Once the fusion is successful, our North Sydney dental surgeon -Dr Toulmin will fit a tooth-coloured crown onto the implant.
With a dental implant, you'll never have to worry about decay or root canals. However, you should still remain vigilant about gum disease. Avoid gum disease by flossing and brushing daily and seeing your dentist for regular professional cleanings in every six monthly check-ups and cleans.
Teeth clenching or grinding can also be hazardous, so wear a night guard while you sleep.
All surgical procedures carry potential risks. Dr Toulmin can discuss these risks with you in depth. Contact McMahons Point Dental, your local North Sydney Dentistry clinic to determine if dental implants are right for you. Call us now on 02 9460 1661 or schedule an online booking.