Orthodontics North Sydney
Looking for orthodontic treatment for a family member or yourself in North Sydney?
Why not seek the help of our primary North Sydney dentist, who specialises in orthodontic treatments. Dr Edwina Toulmin has a special interest in orthodontics and provides comprehensive and professional dentistry services right here at McMahons Point Dental.
McMahons Point Dental provides the highest quality orthodontic treatments to Crows Nest, St Leonards, Waverton and North Sydney surrounding locals.
Watch the YouTube clip below to see how the Damon system works
Importance of Orthodontic North Sydney Treatments
Why you should choose McMahons Point Dental for Orthodontic Treatments
Orthodontic Consultations
Orthodontics Services
Invisalign
Braces
Braces are the fixed appliances that consist of brackets, wires and bands which most people imagine when they hear the word orthodontics. Braces are usually adjusted every four to six weeks to achieve the desired results. The process can take anything from a few months to two years, depending on the severity of the crowding. Using the advanced technology of the Damon system, braces are less visible, more comfortable and work faster than old- fashioned systems. We have bright colours for kids and clear for adults.
Expert North Sydney Orthodontics
Before you go through the trouble of booking an appointment with Orthodontics North Sydney, see Dr Toulmin for honest advice and attention to detail. McMahons Point Dental offers comprehensive orthodontics services to  North Sydney, Crows Nest and St Leonards,
McMahons Point Dental offers comprehensive North Sydney Orthodontics treatment options to McMahons Point, Crows Nest, St Leonards and North Sydney surrounding suburbs.
Please call us today on 02 9460 1661, or book an appointment online and view other dental treatment options that we offer.
How Does Mouth Breathing Cause Crooked Teeth
Orthopaedic Appliances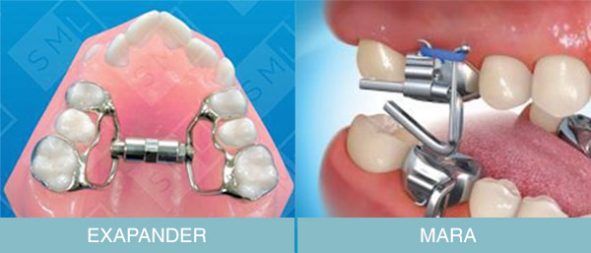 Sometimes teeth can't be moved to achieve optimum facial aesthetics and function without the use of fixed appliances. Dr Toulmin most commonly uses a MARA (Mandibular Anterior Repositioning Device) for people with what is commonly known as an overbite, where the bottom jaw is too far back compared with the top jaw. This appliance slowly and painlessly stretches the jaw muscles so they are used to the teeth biting in the correct position.
In people with a narrow top jaw, Dr Toulmin uses an expander which again, slowly and painlessly expands the jaw so the teeth have enough space.