Why Choose us for dental?
Comfort and Convenience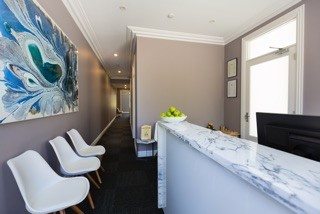 Our dental clinic in McMahons Point is designed with your comfort in mind. From the moment you step through our door, you are greeted with happy, friendly staff who put you at ease. Our reception area is beautifully decorated and features a stunning work of art by Australian artist Miertje Skidmore. You will be offered a complimentary beverage and are welcome to help yourself to one at any point. We have fresh, modern magazines to read and play a variety of music- feel free to ask us to play your favorite artist!
Our pram and wheelchair friendly bathroom feature high-quality paper hand towels, Murchison- Hume hand soap, and moisturizer. If you want to freshen up before your appointment we have toothbrushes, toothpaste, dental floss and mouthwash available to use.
The dental suite itself is beautifully furnished and overlooks leafy McMahons Point village. It features the most comfortable dental chair on the market, the Swedish Planmeca iComfort, with memory foam and soft leather upholstery.  It includes a water heating device that warms the water in winter for sensitive teeth. The ultrasonic instrument which is used to clean your teeth has a special tip to reduce sensitivity. There is an intraoral camera fitted to the unit so you don't have to take our dentist's word for it that there's a problem with your teeth, you can see it for yourself! You can watch a movie on the TV screen fitted to the chair. We have a range of films to choose from, or you can bring one from home. We have headphones for those sensitive to the noise of the dental instruments.
There are subtle room fragrances throughout the practice so you never catch a whiff of old- fashioned "dentist smell". Our wheelchair lift can be used for less mobile people or those with prams to enter and leave the practice. We are open 8 am- 7 pm weekdays and 8 am- 5 pm Saturdays so that you can fit your dental appointment into your work and family commitments. After hours, we are available for emergencies by calling the dental emergency mobile number.
Dr. Toulmin is a gentle dentist, highly skilled in working with patients who suffer from dental anxiety. As an anxious patient herself, she understands what is necessary to put you at your ease.
For your convenience, you can use our HICAPS machine to swipe your private health insurance card and claim your money back on the spot.
You always see the same dentist so you don't have to explain your needs time and again and can have your dental health expertly and efficiently managed.
Timed parking is available on nearby streets and the practice is a short walk away from North Sydney train station, buses and ferries.
We put your health before anything else
We genuinely care about your health and well-being and treat your teeth as if they were our own. We are passionate about providing the absolute best in dental care, with absolutely no compromises. We take our time to your appointment so you never feel rushed and have plenty of opportunities to ask questions. Our first appointment with you is sixty minutes and involves a comprehensive exam of your jaw joint, teeth, gums and soft tissues. We are self- confessed perfectionists and take a holistic view of your dental health, not simply looking at your teeth in isolation.
One of our greatest passions is making dental visits fun for children. From the reception area toy box to movies and cartoons in the dental suite, we ensure children are engaged and comfortable. They receive special rewards and lots of encouragement. We assess their facial growth and development at every appointment to avoid preventable jaw and teeth problems in the future. We take time to gently and patiently teach them good oral hygiene habits that will set them up for life. Many children enjoy having their drawings and colouring in displayed on our wall of fame in the hallway!
We believe that prevention is better than cure, so our primary focus is on dental health and well being. Once that is established, we can move on to cosmetic and elective treatments.
While our top of the range digital x-ray machine emits very low radiation, well below levels required my industry standards, we are always careful to only do x-rays when necessary, unlike some zap- happy practices.
We have scrupulous infection control standards that are well and above what is required by industry regulations. Our staff receive extensive training on infection control and health and safety.
Education
Dr. Toulmin is addicted to learning and is up to date with all the latest information and skills. She loves "talking shop" and goes to great lengths to pass her knowledge on to others. She is adamant that every patient is shown how to floss, a skill that is sadly often not taught.
We enjoy visiting local schools and preschools to give educational presentations to children about dental hygiene and healthy eating. If you would like to book a presentation for your school, call us on (02) 9460 1661.
In our hallway, you will find all sorts of useful pamphlets on dental health, as well as general health and well-being. We're always happy to answer any questions you might have.
Dental Procedures We Carry
Finding a dental practice in Sydney is not difficult, but looking for a professional and affordable dental clinic needs a bit more work. McMahons Point Dental offers a comprehensive range of dental treatments:
McMahons Point Dental is more than just a dental practice as we also provide affordable treatment for a wide range of health issues in North Sydney, such as:
Book appointment with McMahons Point Dental
We provide general, cosmetic and family dentistry services for many neighborhoods of North Sydney. We are based in McMahons Point, but also serve surrounding suburbs such as Crows Nest, St Leonards, the CBD and lower North Shore.
McMahons Point Dental deliver high-quality dental care using advanced dental technologies. Contact McMahon's family dentist, open 7 days a week and open until 7 pm on weekdays.